Lessons from an unlikely source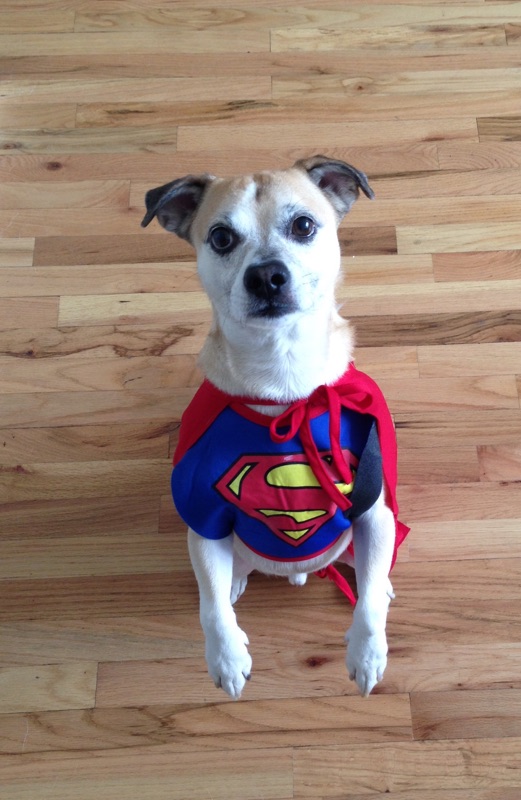 "We are all faced with a series of great opportunities brilliantly disguised as impossible situations."
~Charles Swindoll
In my last post I talked about the importance of trying; taking a shot or going after something you really want. For some people, pursuing a dream, or making an attempt, is easier said than done. Some of us must first work on believing; building confidence in ourselves, before we have enough courage to take a leap and go for it.
The power of belief is amazing! It conquers our fears and helps us to push forward when we have no idea what to expect ahead.
This morning while walking my dog Samson, I was given two examples of the power of belief from the most unlikely source: Samson. I'm sure you're wondering how a dog could teach me something so important, so I'll tell you… But first let me tell you a bit about Samson.
Samson is a very mild mannered dog. He's somewhere between small and medium-sized, very curious, likes to sniff around in different places, and he has an affinity for sniffing other dogs. Although Samson is petrified of large trucks, buses, and fireworks, he has absolutely no fear of other dogs, no matter the size.
Stay with me now! Trust me there's a point to my story! 🙂
This morning during a usual walk around our Brooklyn neighborhood, there were two dogs that helped Samson demonstrate the power of belief to me. As we made our way down the block, we noticed a young lady and her tiny dog walking towards us. Though small, as soon as the other dog saw Samson he began to bark and growl viciously. As much as I tried to move away from the little terror, Samson was determined to get his sniff in. He didn't growl, he didn't bark, and he certainly was not afraid. He was determined to sniff the demon dog, and he firmly believed that he was superior. No matter how much I tried to pull him back, Samson had already made the decision that he would sniff, and sniff he did, for approximately a milli-second. That's all he needed. He had achieved his goal and there was nothing that could stop him. Lesson #1 learned.
With Samson's tail wagging, and his head held high, we turned the corner and continued to walk… As we made our way towards the middle of the block, we saw another one of the neighborhood dogs. This dog is HUGE; he's a full sized German Shepherd and he's probably 3 or 4 times Samson's size (think K-9 police dog). We'll call this dog Brutus to protect his true identity. 🙂
Now Brutus' owners don't keep him on a leash; he pretty much owns the block. Samson and I will typically walk on the other side of the street, more because this dog scares me to death; I refuse to let him scare me enough to force us to walk down another block. (I gotta draw the line somewhere… Lol)
On several occasions, Brutus has disobeyed his owners and attempted to run across the street to bark at Samson. Thankfully, in the past, his owners have been able to run and stop him before he gets to us, but today he made it across. I'm not gonna lie, I was scared! Nevertheless, I refused to show Brutus that I was afraid because I think I heard somewhere that dogs can smell fear (or was that dinosaurs? Can't remember… Oh well!). In any case, Brutus gets to us and he's barking and growling, and he's standing over Samson. I glance down at Samson.. No fear! I was amazed!! It was like he literally believed that he was the superior dog. In my mind, I'm thinking 'Samson, this dog probably eats breakfast bigger than you', but apparently Samson didn't get the memo. He stood tall, got a few sniffs in on Brutus, and when Brutus got too close, or seemed a bit too aggressive, Samson responded with a flash of his teeth, a growl, and a half bark as if to show that Brutus wasn't worthy of a full bark. Before the situation got worse, Brutus' owners made it to us, grabbed him by his collar and ushered him away. I looked down at Samson and he continued to stand tall, basking in his 'victory'. Lesson # 2 learned.
Let me take some time to further explain the 2 lessons I learned today…
Lesson # 1
If you decide that you're going to do something, and you believe in yourself, you can do just about anything. It doesn't matter the obstacles, persistence is the key to achieving your goals.
Samson decided, and Samson believed. Although his situation was a lot simpler than what most of us have going on in life, the solution is often the same. For example, when it comes to careers, your career is "YOUR" career, and achieving your goals starts with your ability to "Decide", then "Believe". Once you're able to figure out what you want, you can then focus on building the confidence to pursue it. As the confidence grows, so will your successes.
Lesson # 2
It doesn't matter what other people believe, as long as you believe in yourself. The first and most important person to convince is yourself.
Samson was convinced, even though I wasn't… I doubted him, and as hard as it is to admit, I assumed that the "right" response was to back down and cower to Brutus. As I'm writing this, it makes me think of other times where I've been faced with intimidating challenges. Have I backed down? Did I cower? Watching my dog's response made me realize the importance of believing in yourself even when those around you have doubts. Since we're talking about a dog, there were obviously no words exchanged after Brutus left, but I walked away from that exchange with a newfound respect for my dog. It was a reminder that sometimes the people closest to me will doubt my abilities, but that should never be a reason to doubt myself.
None of what I've shared with you is a new lesson. Like me, I'm sure you've had previous experiences that reminded you of the importance of believing in yourself. This wasn't the first, and I'm sure it won't be my last time being reminded. With that said, while the idea is fresh in your head, I encourage you to take a baby step towards eliminating any doubt you may be feeling in yourself. Below is a poem that I learned several years ago that also serves as a reminder of the importance of belief in oneself.
Until next time…
-R
THE MAN WHO THINKS HE CAN
by Walter D. Wintle
If you think you are beaten, you are;
If you think you dare not, you don't.
If you'd like to win, but think you can't
It's almost a cinch that you won't
If you think you'll lose, you're lost,
For out in the world we find
Success begins with a fellow's will;
It's all in the state of mind.
If you think you're outclassed, you are.
You've got to think high to rise.
You've got to be sure of yourself before
You can ever win a prize.
Life's battles don't always go
To the stronger or faster man;
But sooner or later the man who wins
Is the one who thinks he can.
—————–
If you like this blog and you're looking for ways to overcome specific obstacles in your Career Search, I encourage you to consider purchasing my Udemy Course titled: "Getting Hired". The course reviews the 5 stages of your Career Search, and attempts to help you navigate through pitfalls that tend to affect career growth. To date, over 500 users have taken advantage of the course.
Below is a link to a discount code strictly for those following my blog. The link will allow you to access the course for a significantly reduced price:
https://www.udemy.com/getting-hired/?couponCode=Racine+Blog
Check it out! There is also a 30-day money back guarantee if you aren't satisfied with the content. I look forward to you giving it a try, and I welcome any and all feedback.